The Comment Panel displays all comments that have been made in a project. You can easily get an overview over all comments and open them by pressing the comment card to see what the comment refers to and to make a reply.
NOTE: This feature is currently not available for Educational Accounts.
Adding a Comment
There are two ways to add a comment:
Click on the comment symbol anywhere along the

timeline area

to add a comment.

Right click on a region (precisely where you want to add a Comment) and select Add comment.


Accessing the Comment Panel
All comments can be viewed in the Comment Panel, on the right side of the studio, along with the Loop and Collaboration tabs.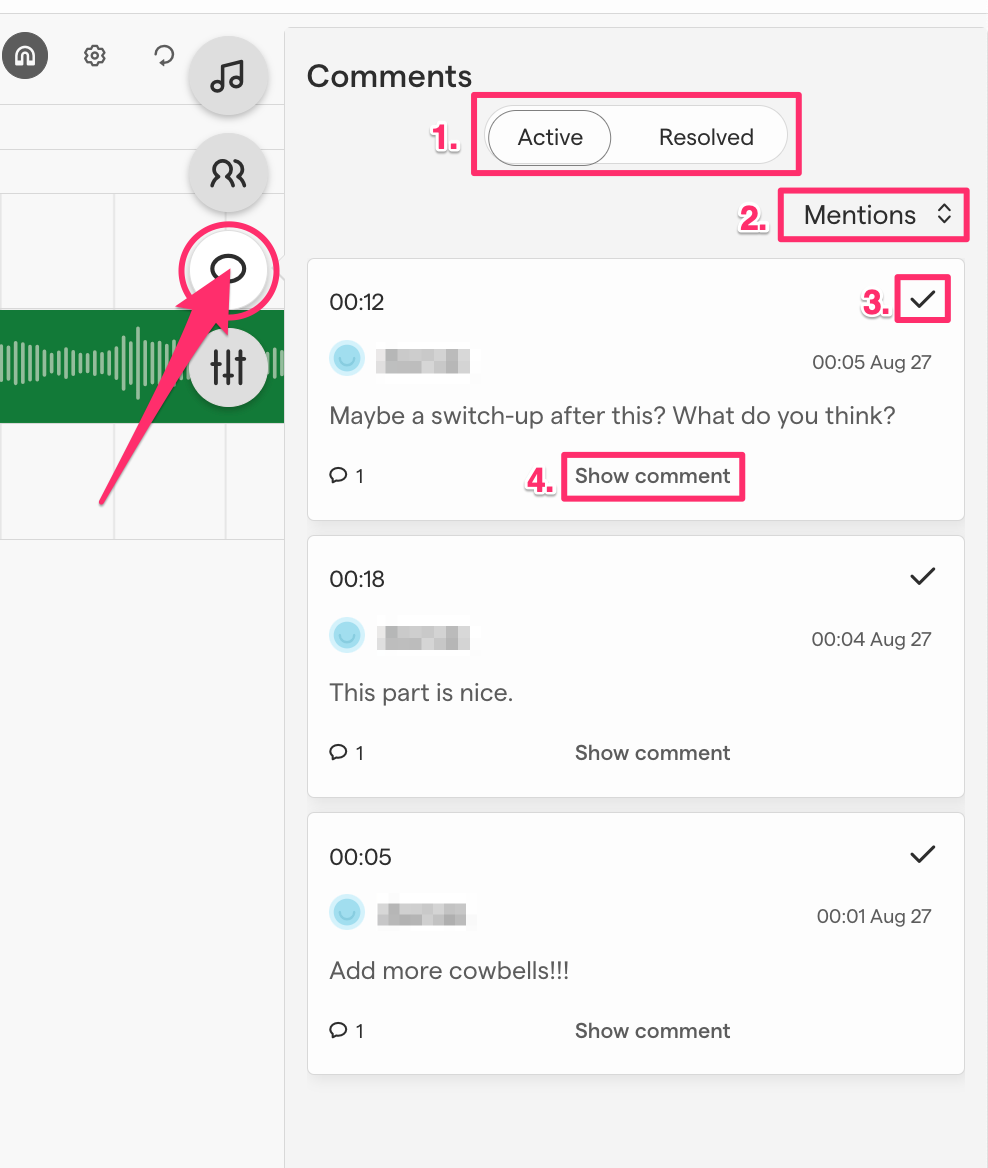 Switch between Active and Resolved comments.
Filter comments by Mention or by All.
Resolve a comment.
Shows which section in the project the comment refers to.
FAQs
Can a Comment be brought back if deleted?
Currently, deleted comments and threads can't be brought back.
Can I add a Comment to a bar/beat or timestamp?
Currently, you can only add a comment to a timestamp. To add a comment to a specific bar/beat, move the cursor in the comment area/timeline to where you want and specify in the comment which bar/beat you are referring to.

To add a comment to a specific timestamp, use playhead to navigate it to the exact timestamp while looking at the timestamp change on the bottom right section. Once you've placed it where you want to add it, simply refer to it like a ruler, click on the timeline area and you're good to go. You can confirm the accuracy of comment placement by looking at the exact timestamp that's visible on comment dialogue itself.

How can I mention someone in a Comment?
Mentioning others is not supported right now. However, we're working on this feature and it'll be rolled out in a couple of months.



Can I share a Comment?
Yes, you can share a comment by clicking on the context menu of an existing comment and selecting "Copy Link".



Can I edit a Comment?
Yes, you can edit a comment by clicking the three dots and clicking "Edit"
Can I move a Comment?
Currently, you can't move a Comment.



Can I invite a new user via Comment?
No, you can't invite a new user via Comment.