Click "Allow" for you to be able to record using your microphone.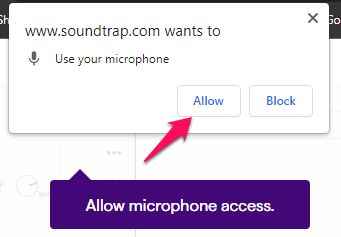 In case you didn't get this prompt or you've blocked microphone access, you can follow the steps below:
Click on the ellipsis icon on the upper right

Click on Settings



Click Privacy and security


Under Privacy and security, click Site settings

Click Microphone



Make sure that "Sites can ask to use your microphone" is enabled, and Soundtrap is not in the list of blocked sites

Note: If you find Soundtrap under "Not allowed to use your microphone", remove it.


Go to Soundtrap and enter the Studio. When the microphone access prompt appears, click Allow. Soundtrap should now also appear in the list of allowed sites.