If you have started your free trial and want to go ahead and purchase a subscription, you have 3 options:
Purchase Online Using a Credit Card or PayPal
Go to the EDU admin panel* and click the "Buy now" button either in the header (1) or at the bottom of the menu to the left (2). In the pop-up dialog that appears, you will be asked to review your order. Here you can add more users to your account if you want to. When you've entered the desired number of users, click "Continue" to proceed to checkout. In the checkout dialog, you can select your currency and your payment method. Payment options include PayPal and credit card. If you cannot use PayPal or credit card to pay, choose "Other" and we will contact you. You also have the option to send a link or customizable email to the person responsible for payments (ICT manager etc). This person will be added as an owner to the educational account you just created and have all values prefilled for payment. *See screenshots below
Purchase by Purchase Order (PO)
If you would like to pay by PO please send 1) in your school's billing and shipping address, 2) telephone number, 3) the email address of the person who will be responsible for receiving invoices, 4) email of the person/teacher who will be the owner of the account, 5) the total number of seats you would like to purchase for, 6) your school's tax exemption form (or VAT number if you are located within the EU, momsregistreringsnummer if you are within Sweden and ABN number if you are within Australia) This information can be sent to the Soundtrap representative you have been working with or emailed to order@soundtrap.com.
Purchase Through Your Preferred Reseller
If you would like to purchase through your school's reseller, please email order@soundtrap.com with the following information:
the name of your preferred reseller

your school's billing and shipping address

the email address of the person who will be responsible for receiving quotes/invoices

the email of the person/teacher who will be the owner of the account

the total number of seats/licenses you would like to purchase
*Purchasing Online Using a Credit Card or PayPal


(1) "Buy now" button on your Profile Page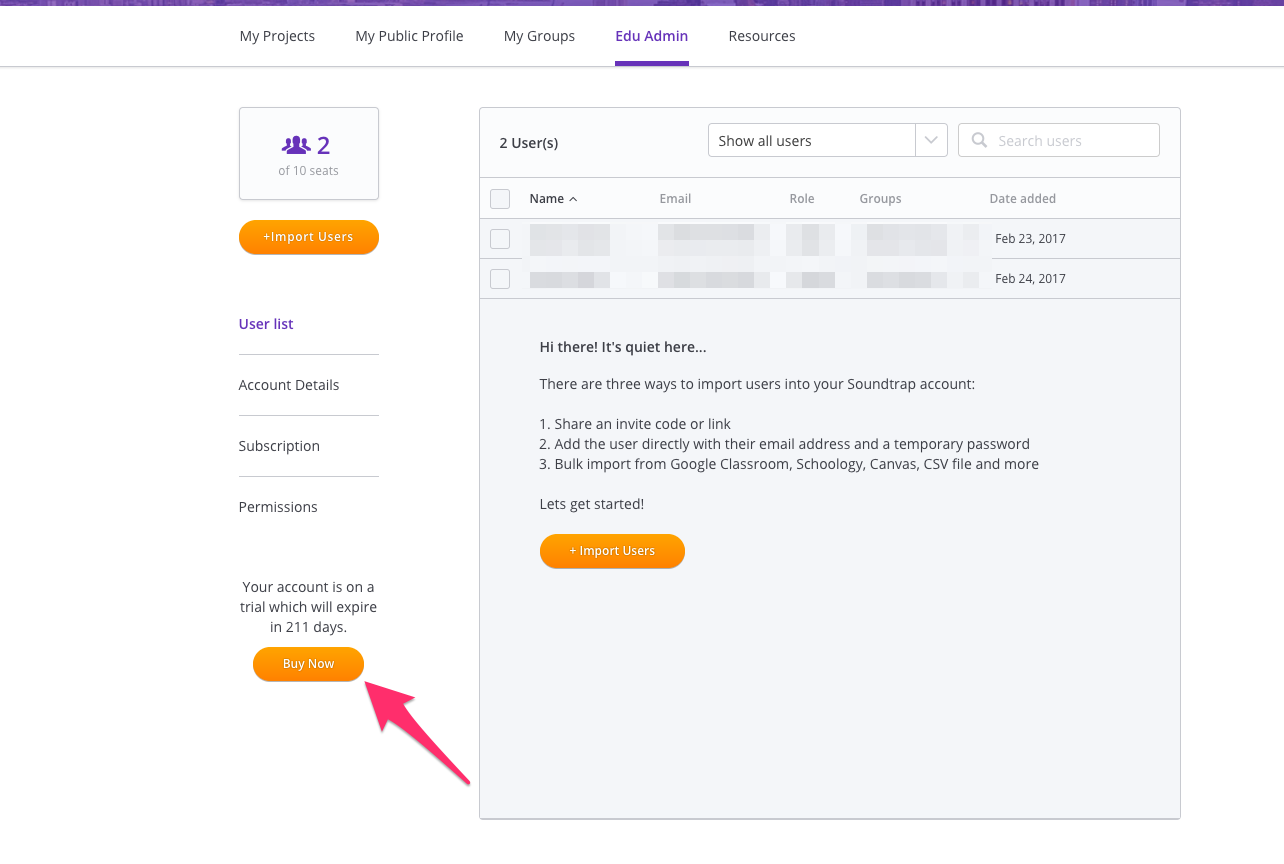 (2) "Buy now" button in EDU Admin