What's good?
Great stereo delay with a vintage/lo-fi character
Can be used as a Chorus or "doubling" effect
Useful for every element in your music
Great for Lo-fi, Synthwave, Vocals, and Guitars
Mod Delay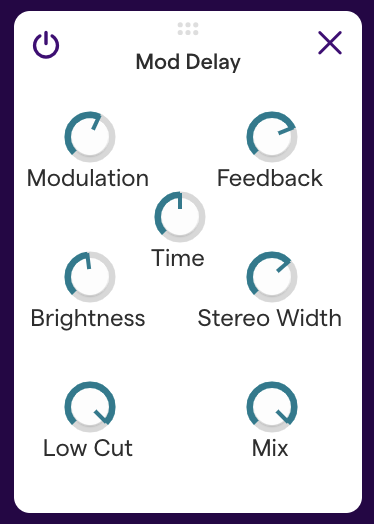 Modulation: Controls the intensity of the modulation effect.
Feedback: Controls the amount of echoes that'll be created.
Time: Controls the delay between the original sound and the echo created.
Brightness: Adjusts the tone of the delay sound.
Stereo Width: Allows you to widen the delay sound.
Low cut: Removes low frequencies (0-1500Hz).
Mix: How much of the delay sound (wet) is mixed into the original sound (dry).